Spring Community Outreach: Lowcountry Orphan Relief
03/01/2018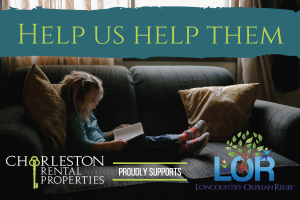 Charleston Rental Properties is proud to support Lowcountry Orphan Relief during the month of March.
Lowcountry Orphan Relief, Inc. (LOR) is a non-profit organization that provides goods and services to children who have been neglected. LOR works directly with other non-profits, schools, foster parents, and government agencies to identify the individual needs of children in severe situations. LOR intervenes at the critical moments in the lives of these children, with products and services that provide a strong, positive impact.
Join us in supporting the children of the Lowcountry. This month, Charleston Rental Properties will be collecting new and used clothing, new toiletries, and funds that will directly impact the lives of neglected children in the Charleston area.
Let's make a difference, Charleston.